In case you missed my Facebook and LinkedIn posts over the weekend, Microsoft issued a Critical Security Bulletin on Friday to address vulnerabilities in Internet Explorer.  The security hole may allow remote hackers to access your computer and execute code on it. In other words: NOT GOOD.
If you regularly use Internet Explorer (IE) you should install the Microsoft patch without delay. If you don't use IE you should update anyway. Either way, you should always make sure you apply all Windows Updates as well as updates for troublesome apps such as Adobe and Java.
If your computer is set to automatically install updates, you're probably fine.  However, it's worthwhile to check your system tray (bottom right hand corner of the screen) to make sure you don't have any pending Windows Updates.
For more geeky details and analysis, take a look at this article in Information Week.
ADD ON:
After sending out this post, I received several responses asking how to verify that Windows Updates are up to date.  Here's the easiest way to check and also set them to install automatically so you won't have to worry:
Windows 7:
1. Start>All programs>Windows Update
2. At the top left of the Windows Update page click on Check for Updates
(this will take a few minutes)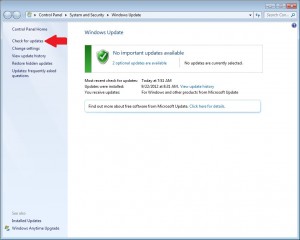 3. Once it's complete, look for 'Important Updates'.  If any are listed, click the 'Install Updates' button.  If there are none, you're fine.  It will probably list Optional Updates, but I would not install those.
To make sure your updates are applied automatically in the future:
1. On the same page as above, click on 'Change Settings'.
2. Under Important Updates, change to 'Install Updates Automatically'.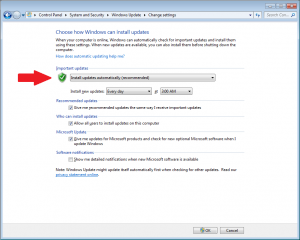 Windows XP:
1. Start>All Programs>Windows Update
2. A web browser will open and navigate to the following page: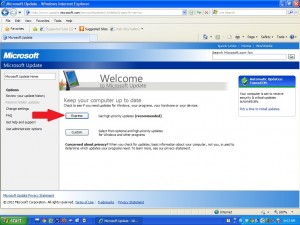 3. Click on Express and Windows will check for updates.  Once the scan is complete, choose Install Updates.  Once this is complete, the machine will likely require a restart.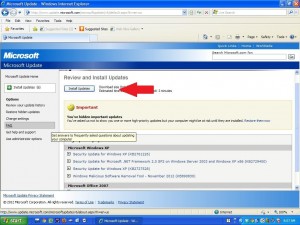 4. To make sure that Updates are applied automatically going forward:
Start > Control Panel > Security Center > Windows Updates (select Automatic)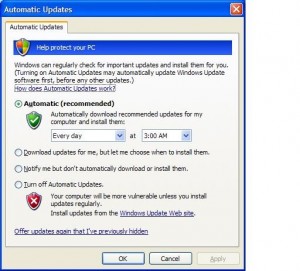 That's it.
Stay safe out there!
Ken